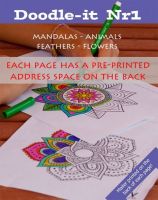 Doodle-it Coloring book Nr.1
31.05.2017


---
Coloring book for kids. The back of each picture has a pre-printed address area, ready to mail to grandma and grandpa!
This new coloring book will be available for sale in Amazon.com starting in the first few days of June! As soon as it is available, we will put a link to it right here.
Instead of taking a picture and sending it via email or FaceBook to distant relatives or friends, each page of this coloring book is designed to be dropped into the mailbox. It's fun to receive real mail, with a stamp on it, especially when it is grandparents receiving mail from their grandkids!
Doodle-it Nr1 Coloring Book for kids
---
Back